books
The Big Book of Wisdom
This book on wisdom is BIG not because of its length, but because it is about everything and for everyone.
Combining scientific findings with logical and intuitive reasoning, we are taken on a journey to look into our intellectual and spiritual experiences. Topics such as Capitalism, Education, Religion, Politics, and Health are explored, and we look at the imbalance between our aims and values as well as the discovery of intersecting cosmic miracles, the miracles of existence, life, consciousness, love and unity.
The Big Book of Wisdom is a guide on how to live a meaningful life, how to grow through adversity towards maturity, and so make one's contribution, little by little, towards a better, safer, cleaner, healthier, much happier world.
From the publisher:
Larry Culliford is a skilled former physician and psychiatrist turned author. He has written numerous influential books and papers on the psychology of spirituality and its relevance, in particular, to health and mental health care. Larry has now turned his gifted attention to the ailments of society. "Where is humanity heading, towards misery and destruction or a far more glorious future?" "How can people – as individuals – make a difference?" These are among the timely questions addressed in his boldly reasoned Big Book of Wisdom..
Endorsements received:
"Culliford's call to us to rediscover and nurture our own inner wisdom is just what is needed in these uncertain times." Sister Jayanti, European Director, Brahma Kumaris World Spiritual University
"A wise teacher whose wisdom needs to be heard." Dominic Walker OGS, Former Bishop of Monmouth.
"Culliford's gift is in opening up a big picture, placing his readers within it, and showing how we as individuals can change the world." Canon John Twisteton, Anglican Diocese of Chichester, UK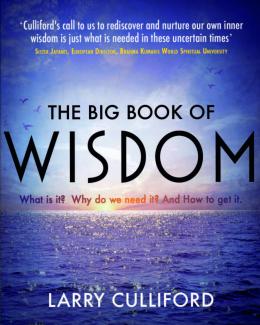 More Books by Dr Culliford